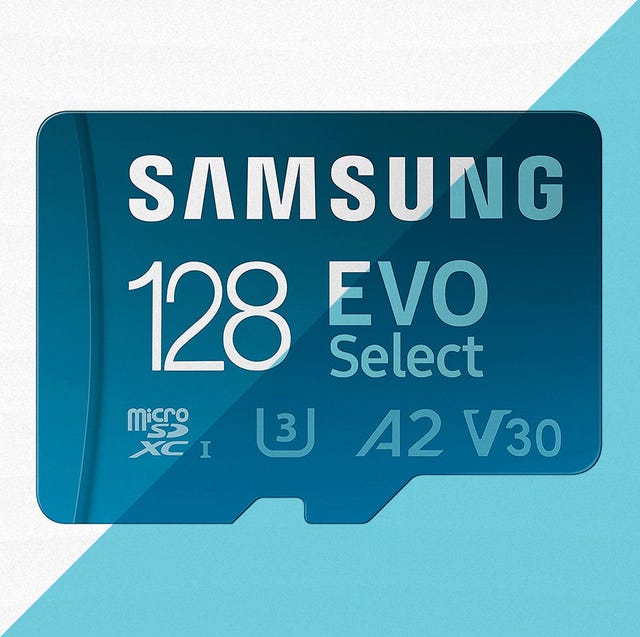 Staff, Courtesy of Samsung
We've talked a lot about how much we love the Nintendo Switch. Everything from its hybrid-style portable design to its incredible selection of games make it a standout hit in a crowd of big, boxy gaming consoles. But something that has always been a pain point for Switch fans is the system's very limited 32GB of internal storage. Considering games like The Witcher 3 take up a whopping 28GB of data, those 32GB quickly become an issue for gamers eschewing physical game cards in favor of convenient digital downloads.
Luckily, the Switch supports a wide array of expandable storage via microSD card. We're here to give you some tips and recommendations on picking the best Nintendo Switch microSD cards.
What to Look for
The Switch is compatible with a wide variety of microSD cards. Considering the size of some Switch titles, we recommend microSD cards with a minimum of 64GB of storage. We also recommend (as does Nintendo) utilizing an UHS-I (Ultra High Speed Phase I) microSD card, which will ensure speedy transfer rates. As such, all of our recommendations are UHS-I cards with at least 64GB of storage.
The Nintendo Switch and Switch Lite have a maximum transfer speed of around 95Mbps for microSD card usage. Therefore, we recommend avoiding higher end microSD cards, such as UHS-II class cards, as the Switch cannot take advantage of their faster speeds.
How We Selected
Many of these recommendations come from hundreds of hours of in-house use. For the products we couldn't test ourselves, we perform intensive research, reviewing content from expert sources like Wirecutter, The Verge, CNET, Tom's Guide, DigitalTrends, and others, as well as thousands of consumer reviews from online storefronts like Amazon, Best Buy, and Walmart. As for the products themselves, we evaluated them on speed, capacity, and price.
Advertisement – Continue Reading Below
1
Best Overall
Samsung EVO Select+ 128GB
SAMSUNG
amazon.com
$19.99
Hitting just the right balance of speed, storage size, and cost is Samsung's latest EVO Select+ series, specifically the 128GB card. We think 128GB is the perfect size for most users, able to store dozens of big and small games with ease. With read speeds of up to 130Mbps, the EVO Select affords the Switch fast load times across the board. 
There are faster microSD cards out there, but the Nintendo Switch really cannot take advantage of cards significantly faster than this one. Usually priced at $20, the 128GB EVO Select+ is an excellent choice for most users.
Great read speeds
Affordable
Samsung EVO Select+ series does not share write-speed data
2
Best Official
SanDisk 128GB Licensed for Nintendo Switch
SanDisk
amazon.com
$20.95
For anyone who prefers sticking to official hardware for their Switch, we highly recommend this SanDisk 128GB microSD card licensed for Nintendo Switch. 
With read speeds of up to 100Mbps and write speeds of up to 90Mbps, this microSD card should easily be able to get the most out of any Switch system. Unlike the other cards on this list, this licensed card comes in a unique, Nintendo-branded design, the 128GB version sporting a red Mario theming. 
While you won't be seeing it much (obviously), it's still nice to have, and feels right plugging into any Switch system.
Officially licensed for the Switch
Very reliable
Slightly pricey
Occasional availability issues
For less than $10, you can essentially triple the amount of storage your Switch system has with this simple 64GB microSD card from PNY. With read speeds of up to 100Mbps, games on Switch have no stuttering issues, and run fast and reliably. 
Although PNY does not list the card's official write speeds, we've found it to be perfectly adequate for most Switch needs. Just be careful when handling this card, as it is less durable than the other options on this list.
Durability/longevity issues
PNY does not share write-speed data
4
For Affordable Storage
SanDisk 400GB Ultra
SanDisk
amazon.com
$48.99
If the Switch is your or your household's main gaming device, a 64 or 128GB microSD may not be enough for your particularly expansive game library. Thankfully, SanDisk's 400GB Ultra microSD card solves this problem with a massive amount of storage at an affordable price point. 
400GB means you can download dozens of big first party games like Breath of the Wild alongside hulking titles like NBA 2K21 without making so much as a dent in your overall storage capacity.  And with read speeds of up to 100Mbps, each and every downloaded game runs smoothly.
Excellent price, considering storage size
400GB is great for families
SanDisk Ultra series does not share write-speed data
5
For Fast Speeds
SanDisk 128GB Extreme
SanDisk
amazon.com
$21.85
If your top concern is reaching the peak speeds your Switch is capable of, consider SanDisk's Extreme line of microSD cards. Of all the Extreme variants SanDisk offers, we've found the 128GB version to be the sweet spot in terms of price for storage size. With read speeds of up to 160Mbps and write speeds of up to 90Mbps, the SanDisk Extreme will easily push any Switch system to its fastest possible speeds. 
While it may be tempting to go for an even faster card, like SanDisk's own Extreme Pro series, the Switch can only handle so much speed, and we've found this card to be the best speed-for-cost option available.
Very fast speeds
Reliable
6
For Maximum Storage
SanDisk 1TB Ultra
SanDisk
amazon.com
$137.99
For 95% of gamers, there is no reason to purchase a 1TB (1000GB) microSD card over something more sensibly priced like a 400GB or 512GB card. 1TB microSD cards are still pretty cutting edge, and as such, they cost an arm and a leg when compared to most other cards.
But if you are a long-time Switch veteran, or live in a household full of Switch fanatics, SanDisk's 1TB Ultra microSD card should be the last Switch storage solution you'll ever need. 1TB of storage means you can download literally hundreds of games onto your Switch, kissing any notion of needing a physical game cartridge goodbye. 
And with read speeds of up to 100Mbps, this SanDisk 1TB Ultra has no problem running those games smoothly and efficiently. If you plan on downloading hundreds, not dozens, of Switch titles, this 1TB card has you covered.
More storage than you'll ever need
Fast 100Mbps read speed
Excessively expensive
SanDisk Ultra series does not share write-speed data
This content is created and maintained by a third party, and imported onto this page to help users provide their email addresses. You may be able to find more information about this and similar content at piano.io
Advertisement – Continue Reading Below
https://wakelet.com/wake/rtjvbnKEZX5F_1xFvBcUO
https://wakelet.com/wake/ZC-lN_BV6pO8KZURVWkWQ
https://wakelet.com/wake/oCKFMwkNVGKJrLQgdFhCK