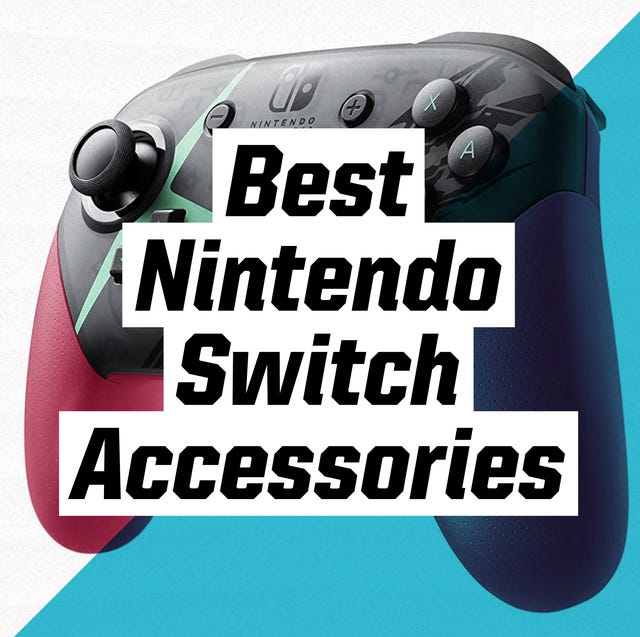 Staff
The Nintendo Switch has changed our idea of what a video game console can be. A thoroughly hybrid piece of tech built for mobile and home gaming, the Switch has been flying off shelves since it's launch in 2017. Continued success has allowed the Switch to expanded into three different versions: the baseline Switch, the Switch Lite, and the Switch OLED, each one filling a different niche.
While versatile straight out of the box, there are a couple of accessories that make owning a Switch even better. With our hand-picked recommendations, your Switch experience is about to get even better.
What to Consider
Because the Switch has been out for a few years, there are a couple of considerations to keep in mind when it comes to finding the perfect accessories. The most important thing to keep in mind is that most accessories only fit one specific variety of Switch, so be sure to double check each accessory for compatibility with your specific system.
Other considerations depend on your main use: people who primarily play their Switch on-the-go are likely to value different accessories than those who primarily use it at home.
How We Selected
Many of these recommendations come from hundreds of hours of in-house use. For the products we couldn't test ourselves, we researched expert sources like Wired, CNET, Wirecutter, Tom's Guide, Insider, and Techradar, as well thousands of consumer reviews from online storefronts on Amazon, Best Buy, Walmart, and more. As for the products themselves, we evaluated them on utility, design, longevity, and price.
Advertisement – Continue Reading Below
1
Best Storage Solution
SanDisk 128GB Nintendo microSDXC
Far and away the most important accessory for your Nintendo Switch is the SD card. This is because the Switch's internal memory capacity sits at an inadequate 32GB. While enough for a couple of big budget titles, 32GB will fill up fast.
The SanDisk 128GB Nintendo microSDXC easily solves this problem. With a blazingly fast read speed of up to 100MB/s and write speed of up to 90MB/s, this SD card will easily max out your Switch's speed and provide you with a smooth Switch experience, no matter what you throw at it.
Incredibly fast load times and write speeds
128GB is plenty for most gamers
Extensive warranty
Slightly pricier than other 128GB SDXCs
2
Best Screen Protection
amFilm Tempered Glass Screen Protector for Nintendo Switch
Also available for Switch Lite and Switch OLED.
With its slim form factor, detachable controllers, and large touch screen display, the Nintendo Switch is built for gaming on the go. While well-made, the screen is made of plastic, and scratches easily if rubbed up against sharper, harder objects.
With AmFilm's tempered glass screen protector, you can drop your Switch into your backpack and not have to worry about where your keys or pens are. It's easy to put on, very durable, and doesn't negatively impact the Switch's responsive touch screen controls.
Tempered glass is very scratch-resistant
Easy to install and clean
Comes in a two-pack
3
Best Wireless Controller
Nintendo Switch Pro Controller
Nintendo
amazon.com
$99.95
The included Switch Joy-Cons, while innovative, portable, and great for multiplayer, are a bit unorthodox, and not all that comfortable after a few hours in games like Breath of the Wild and Super Smash Bros. Cue the Nintendo Switch pro controller, a fully-loaded wireless controller in a much more comfortable and traditional form-factor.
With larger, deeper buttons, a dedicated D-pad, and a more ergonomic grip, the Switch Pro controller is the ultimate controller for the Switch. And with built-in rumble, motion controls, and Amiibo support, you'll never have to worry about switching back to the Joy-Cons.
Comfortable, ergonomic design
Great battery life
USB-C rechargeable
4
Joy-Con Grip
FastSnails Joy-Con Grips
Playing multiplayer games like Mario Kart 8 and Super Smash Bros. is very convenient thanks to Nintendo's splittable Joy-Cons. But playing these competitive games with one single horizontal Joy-Con gets uncomfortable fast. The FastSnail Joy-Con Grips are a simple, no-fuss solution. 
Simply slot a Joy-Con into these rubberized controller-shaped molds and suddenly you have a much more comfortable playing experience. They are perfect for pulling off tight-turns and last-minute parries.
Much more comfortable than a Joy-Con
Affordable
Only useful for horizontal play
5
Best Simple Travel Case
Orzly Carry Case for Nintendo Switch & Switch OLED
Also available for Switch Lite. 
Naturally, a case makes perfect sense for a portable console like the Switch. The Orzly Carry Case gets the job done in a simple, functional, affordable package. 
Besides securely housing your Switch, the Orzly case has dedicated slots for game cartridges, as well as a mesh pocket to slide cables, extra joy-cons, or a controller grip. The outer shell, while not the hardest hardshell out there, can easily handle drops and spills. The entire package is simple and slim, making it easy to slide into any bag.
Secure fit for Switch console, cartridges, and accessories
Simple and compact form factor
6
Best Stand
HORI Playstand
The Switch is designed for easy, flexible, on-the-go play. While the good battery life, light form factor, and detachable Joy-Cons check all those boxes, the Switch and Switch Lite's built-in kickstand checks…none of them. It's actually pretty bad. 
Unless you have the Switch OLED and its improved kickstand design, you'll quickly want something like the HORI Playstand. It's a collapsable, angle-adjustable, rubberized grip stand that holds your Switch securely in place on any tabletop surface. The added elevation also means you can charge the Switch while playing. Overall, the HORI playstand makes tabletop play much more comfortable and much more secure.
Makes tabletop play comfortable and stable
Charge while playing
7
For the Best Connection
HORI Wired Internet Adapter
While not exactly marketed towards the "pro gamer", the Switch has its fair share of competitive online games. While the Switch OLED features a built-in Ethernet port, the original Switch and Switch Lite rely on Wi-Fi, which can quickly be frustrating for fast paced games like Super Smash Bros and Splatoon 2. That's why for Switch and Switch Lite users seeking serious competition, the HORI Wired Internet Adapter is a must. 
The adapter enables Ethernet connectivity, meaning a smooth and steady connection during intense online competition.
Ethernet connection far more stable than Wi-Fi
Nintendo-licensed product
Longer cable length than competition
Pricier than third-party adapters
This content is created and maintained by a third party, and imported onto this page to help users provide their email addresses. You may be able to find more information about this and similar content at piano.io
Advertisement – Continue Reading Below
https://www.mbmva.fr/forums/topic/aciclovir-zonder-recept-apotheek-aciclovir-zonder-recept-zwitserland/
https://www.newsecho.com.ng/forums/topic/koop-valaciclovir-zonder-recept-aciclovir-cr%d0%b3%d1%91me-met-of-zonder-recept/
https://www.onlinetutor.lk/forums/topic/valaciclovir-zonder-recept-aciclovir-kopen/