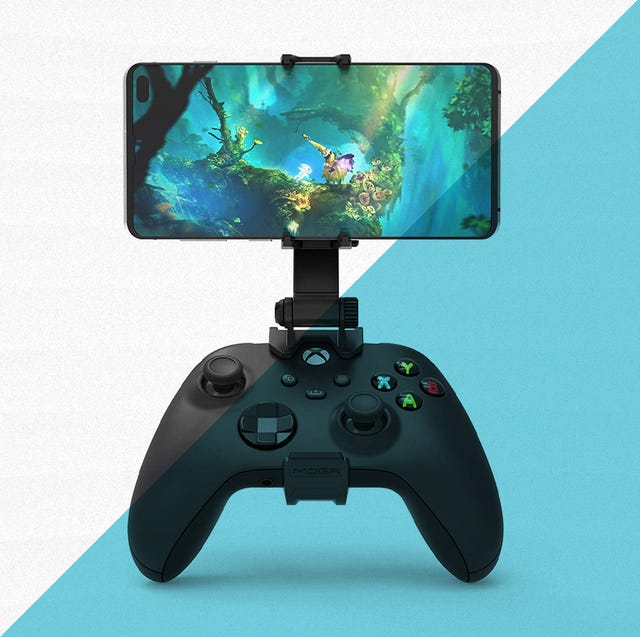 Staff, Courtesy of Power A
Cloud and mobile gaming have been the butt of a lot of jokes within the games industry. For years, gamers and critics have lambasted mobile games' pay-to-win design practices and cloud gaming platforms' clunky interfaces (mostly Google Stadia's). But with quality new platforms like Xbox Cloud Gaming and Apple Arcade, gaming on-the-go has gotten a major boost in quality.
To truly enjoy the best mobile gaming has to offer, you'll want something a little more robust than your phone's touchscreen controls. We've put together a list of the best Xbox phone controllers to add some comfort and precision to your mobile gaming sessions.
What to Look For
When selecting the best Xbox phone controller for your mobile devices, the number one factor is compatibility. Many mobile controllers connect with Android or iOS, not both. Consider the devices you'll be using, and make sure the controller you're eyeing is compatible. Also consider whether you'd like your controller to plug directly into your phone, or connect via Bluetooth. Direct connectivity means less lag, but Bluetooth usually offers wider compatibility.
How We Selected
Aside from the Steelseries Nimbus+, all of our recommendations are included on Xbox's approved list of Xbox Cloud Gaming compatible controllers.
Many of these recommendations come from hundreds of hours of in-house use. For the products we couldn't test ourselves, we perform intensive research, reviewing content from expert sources like Wirecutter, The Verge, CNET, Tom's Guide, DigitalTrends, and others, as well as thousands of consumer reviews from online storefronts like Amazon, Best Buy, and Walmart. As for the products themselves, we evaluated them on design, functionality, and price.
Advertisement – Continue Reading Below
1
Best Bluetooth Controller
Xbox Core Controller
Microsoft
amazon.com
$62.00
If you are looking for a comfortable, simple controller to game on your mobile devices, the Xbox Core Controller is it. Of all the controllers we've tested, it's by far the most well-designed, with excellent ergonomics, button-feel, stick-grip, durability, and connectivity. As a result, gaming on Xbox Cloud Gaming and Apple Arcade feels great on this controller.
The Core Controller connects via Bluetooth to smartphones running at least Android 5.1.1 or iOS 14.5. But unless you have your phone propped up on a table, you'll need a mounting clip to experience a true mobile gaming experience with this controller.
Superior design
Connects to Android, iOS, and Windows
Needs a mounting clip
Uses AA batteries
2
Best Controller Clip
PowerA MOGA Mobile Gaming Clip 2.0
If you are trying to use an Xbox controller you already own as your mobile controller of choice, try pairing it with PowerA's Mobile Gaming Clip 2.0. 
This simple mounting clip combines your phone and Xbox Core or One controller into a mobile gaming rig. With a largely rubberized plastic build, adjustable viewing angle, and foldable design, this simple piece of gear has a lot to offer Xbox controller users. 
Best of all, it's affordable, making an Xbox controller plus PowerA Clip a great option for most mobile gamers.
Affordable
Great match for Xbox controllers
Fits phones up to 3.12 inches wide
Large phone cases can cause fitting issues
3
Best Split Controller for Android
Razer Kishi
For Android users seeking a mobile gaming experience similar to that of a Nintendo Switch, we recommend the Razer Kishi. The star of the show here is the design: a split controller that places your phone front and center. 
With its collapsable build, this controller shrinks to a much more portable size when not in use. Perhaps best of all, the Razer Kishi connects directly to your smartphone's USB-C port, offering a much faster response time when compared to connecting over Bluetooth.
Responsive direct USB-C connection
Portable, collapsing design
4
Best Split Controller for iOS
Backbone One
Backbone
amazon.com
$99.99
For Apple users seeking that Nintendo Switch feel, consider the Backbone One, an adjustable split controller offering superior ergonomics and response time. 
The Backbone One connects directly to your iPhone's lightning port, meaning a much faster response time when compared to connecting over Bluetooth. It also offers extended connectivity like passthrough charging and a 3.5mm headphone jack. Overall, the Backbone One is a speedy and ergonomic way to experience all the best Xbox and Apple games on iOS.
Responsive wired Lightning connection
Charging and 3.5mm ports
5
Best Clip Controller for Android
Razer Raiju
Sometimes simple is best. For Android gamers, the Razer Raiju offers the best traditional, all-in-one package we've seen. The controller itself features a built-in adjustable phone mount that slides closed when not in use. 
While it may feel a little less sturdy than Xbox's own controller, the Raiju makes up for it with additional button offers like hair triggers on the underside of each grip. Through Razer's own Raiju mobile app, you can customize the controller's sensitivity options, something fans of shooters will definitely appreciate.
All-in-one design
Additional hair triggers
Some build-quality issues
6
Best Clip Controller for iOS
SteelSeries Nimbus+
SteelSeries
amazon.com
$69.99
Yes, the Nimbus+ features a design more akin to Sony's Dualshock controller than Microsoft's Xbox controllers, but it remains one of the better all-in-one iOS controllers out there. 
Similar to Razer's Raiju, the Nimbus+ sports a traditional design with controls that make any mobile game much more fun to play. But unlike Razer's Raiju, the Nimbus+ features a mounting clip that fully detaches from the controller, making it slightly more portable. 
Just be sure to download the SteelSeries app to get the latest firmware update; the Nimbus+ will operate much more smoothly afterwards.
Apple-licensed product
Rechargeable via Lightning
Requires firmware updates from the SteelSeries app
Some build-quality issues
7
Most Portable
8BitDo N30 Pro2
The only pocketable controller on our recommendations list, 8BitDo's N30 Pro2 is a retro throwback that puts portability and connectivity first. Connecting via Bluetooth, the Pro2 is compatible with a wide array of devices, including Android and iOS smartphones. It small, flat, retro design feels right at home with 2D games like Ori and the Will of the Wisps and Alto's Odyssey, with all the control options you need to succeed. 
The only downside is the Pro2's more Nintendo-style layout: the A and B face buttons will not match up with Xbox game prompts.
Compact form factor
Versatile connectivity
A and B button layout is reversed compared to Xbox
This content is created and maintained by a third party, and imported onto this page to help users provide their email addresses. You may be able to find more information about this and similar content at piano.io
Advertisement – Continue Reading Below
https://wakelet.com/wake/PIoC2CRCvt3WVYhbmXa7U
https://wakelet.com/wake/9FlrLJWllSFEozfHbe1uC
https://wakelet.com/wake/qlZ2r0viKbHXd_0zuSmX2