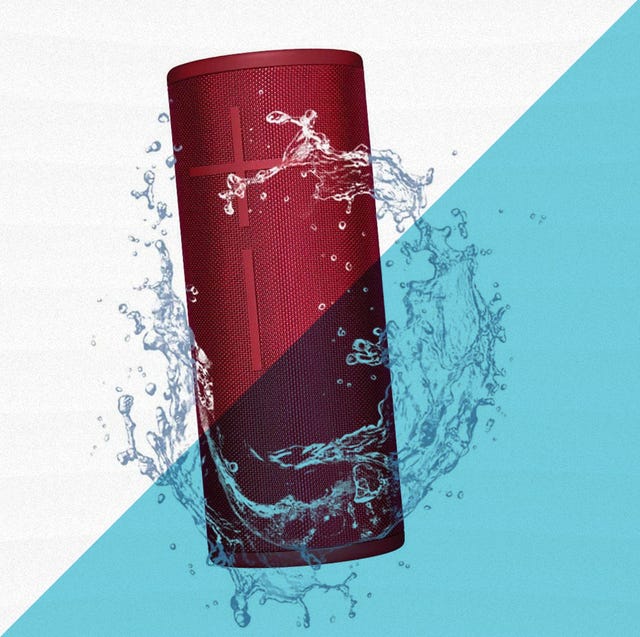 Staff, Courtesy of Ultimate Ears
Bluetooth speakers offer wonderful portability to blast music on the beach, listen to your favorite podcast on the patio, or otherwise share tunes outdoors with friends. In recent years, technology has improved enough that even the smallest and lightest models can pump out quality audio, last all day on a single charge, and offer a better connectivity experience.
Some Bluetooth speakers are built to withstand tough conditions, such as accidental drops or water expsosure. And not every Bluetooth speaker is designed to be tossed into a backpack and taken with you; some are larger and meant to stay put indoors, for the most part. Combine these size options with even more styles, shapes, and colors to choose from, and it's easy to get overwhelmed with all of your options. Our buying guide will help you understand what to look for in a Bluetooth speaker, plus we share our top ten recommendations for any of your wants and needs.
Calling All Audiophiles: 7 Surround Sound Systems for Every Budget | The Best Outdoor Speakers for Outdoor Entertaining | The Best Alexa Speakers of 2021
Features to Consider
If your goal is to have music on the go, just about any of these Bluetooth speakers will deliver. But every model is more nuanced than it appears, and unless you know what to look for, you might let aesthetics guide your decision. Here are more specifications to consider before you buy:
Sound Quality
This is the speaker's ability to successfully deliver bass, treble, and midrange for various types of audio content. Although any portable speaker will be superior to your phone speaker, the best, deepest, and fullest sound will come from speakers with larger drivers. A larger driver usually equates to a larger speaker.
Connectivity
All of these options have Bluetooth connectivity, but keep in mind that some perform better than others. Bluetooth 5.0, 5.1, or 5.2 with NFC pairing provide the most reliable wireless connection and range. Some also allow for Wi-Fi connectivity or a USB port for a wired connection in the case your Bluetooth fails.
Design and Durability
The shape and appearance of a speaker might be of the utmost importance to you if you want a contemporary design that looks good on a shelf, but the more critical question is how durable it is for how and where you plan to use it. An ingress protection (IP) rating, such as IP54, can tell you how protected your speaker is from the elements. The first number refers to solids like sand and dirt (the highest number being 6, or completely protected from anything getting in), and the second refers to liquids, like raindrops and water (the highest being 8, or completely protected against submersion deeper than one meter for long periods). If you see an X in place of a number, it means the speaker has not been rated, and you should assume there's little to no protection. If you plan to use your speaker at the beach, where you'll be surrounded by sand and water, look for one with a high IP rating, such as IP67.
Battery Life
For most users, battery life isn't the most important feature, especially if you're somewhere near a power source. But if you plan to take yourself and your speaker off the grid for a few days, you want one that will last the journey. Most speakers will provide you with at least 10 hours of listening on a single charge, but some last a lot longer. The Anker Soundcore on our list will have keep the party going for 24 hours, and the incredibly stylish Bang & Olufsen can go as long as 43 hours with the volume on low.
How We Selected
To determine the best Bluetooth speakers, we researched 10 expert sources such as PC Mag, Tech Radar, and CNET, as well as consulted the reviews and test results from Senior Technology Editor Stefan Vazharov at our sibling site, Best Products. We considered specifications like battery life, waterproof rating, connectivity options besides Bluetooth, weight, and general portability. These picks have also been vetted by consumer reviews at retail sites like Amazon and Walmart to ensure their ease of use, sound performance, and durability.
Best Overall
Sony SRS-XB33
Key Specs
Connectivity: Bluetooth 5.0, USB, NFC
Battery Life: 24 hours
IP Rating: IP67
Weight: 2 lbs 6.9 oz        
Best Products named the Sony SRS-XB33 the best Bluetooth speaker for most people thanks to its "cool design with a fabric finish, an insanely tough build, top-tier audio performance, and long battery life." We like that its versatile design can be placed horizontally or vertically and produce great sound either way. Perhaps most importantly, this model boasts Bluetooth 5.0 with NFC pairing for easy connectivity, and with the long 24-hour battery life and USB port, you can even use it as a battery pack. In addition to its great price tag for all of these features, it comes with Sony's Music Center app to customize the sound and built-in lighting, if you want to set the mood with party or strobe lights.
Great value with multiple color options
Waterproof, dustproof, shockproof
Sony app with light customization
Most Affordable
Anker Soundcore
Key Specs
Connectivity: Bluetooth, USB
Battery Life: 24 hours
IP Rating: IPX5
Weight: 12.6 oz
Any audiophile will know that a sub-$50 speaker won't cut it for top sound quality, but we can't fail to mention this super inexpensive option that still offers decent quality for those on a budget. Anker is known for making affordable yet effective speakers and earbuds, and their base Soundcore Bluetooth speaker is no exception at just under $30. For that price, you still get an impressive full day's battery life, water- and drop-proofing, and a built-in mic to connect with a voice assistant.
Compatible with Alexa
24-hour battery life
Key Specs
Connectivity: Bluetooth
Battery Life: 10 hours
IP Rating: IP67
Weight: 8.4 oz
The JBL Clip 4 isn't the most powerful speaker on our list, but it is certainly one of the most portable. An integrated clip lets you attach it to pretty much anything—a backpack while hiking, a belt loop while walking, or your chair at the beach. No worries, either, if a rogue rain or windstorm catches you by surprise; the Clip 4 is dust- and waterproof. Aside from the built-in clip, other notable updates from previous generations are a sturdier exterior, which makes the speaker slightly heavier, and improved audio, which is pretty impressive considering this speaker's size. One charge lasts up to 10 hours, and the speaker comes in six cool colors, such as pink and camo.
Built-in clip for portability
Water and dust-proof
Stylish Subwoofer
Marshall Stockwell II
Marshall
amazon.com
$249.99
$199.99 (20% off)
Key Specs
Connectivity: Bluetooth
Battery Life: 20 hours
IP Rating: IPX4
Weight: 3 lbs
Marshall's speakers have a timeless style, inspired by the brand's guitar amps, with the same Marshall logo on the front grille and analog knobs to adjust volume, bass, and treble. As a result, this model is great if you want a custom sound. Regardless, you'll get immersive audio thanks to the powerful subwoofer. Not to mention, this model is portable with its built-in carrying strap.
Analog control knobs for custom sound
Most Durable
Ultimate Ears Wonderboom 2 Mini
Key Specs
Connectivity: Bluetooth
Battery Life: 13 hours
IP Rating: IP67
Weight: 15 oz
One of the best small Bluetooth speakers, the Wonderboom 2 Mini is encased in a fully waterproof, rugged shell that can also float. The speaker projects 360-degree sound, which can be controlled with large volume buttons and a boost button to increase volume and clarity when outdoors. We especially like the thoughtful touch of the built-in hang loop on this speaker, so you can easily bring this speaker will you on your travels to hang on a backpack, your handlebar, or at your campsite.
Fully waterproof and floats
Hang loop for portability
360-degree sound
Best Bluetooth Smart Speaker
Bose Portable Smart Speaker
Key Specs
Connectivity: Bluetooth, Wi-Fi
Battery Life: 12 hours
IP Rating: IPX4
Weight: 2 lbs 5.4 oz
Bose has long been a leader in the audio world, and it has delivered on this portable speaker. At 7.5 inches tall, this sleek speaker isn't as easy to throw into a backpack like most, but a handle at the top does make toting it from one spot to another more convenient. This is the first outdoor speaker in Bose's product lineup—go ahead and move it from inside to poolside; it's drop- and water-resistant. It's also smart—compatible with Google Assistant and Amazon Alexa—so it'll respond to voice commands while you're sipping a drink on your inflatable pool lounger. Like most smaller speakers, its bass is a bit lacking, but overall the sound quality is crisp, clean, and everything you would expect from a Bose product.
Integrates well with smart assistants for voice control
Good 360-degree sound quality for size
Sleek Design
Bang & Olufsen Beosound A1
Bang & Olufsen
amazon.com
$250.00
$219.00 (12% off)
Key Specs
Connectivity: Bluetooth, USB-C
Battery Life: 18 hours
IP Rating: IP67
Weight: 1 lb 3.7 oz
Spending over 200 bucks on a speaker that's barely 2 inches high might be hard to justify. But you likely won't be disappointed by the Beosound A1. Consider its 18 hours of battery life (up to 43 at low volume); sleek, modern design; and IP67 rating, which means it's fully dust- and waterproof. And despite its compact size, the A1 can go full volume without distorting the sound. The domed design blasts an even 360 degrees of music. It also has three microphones, built-in Alexa voice assistant, and Wake Word assist that works up to 3 hours after the device has been turned off.
Built-in Amazon Alexa
Compact, durable design with great audio
Great Pool Speaker
Ultimate Ears Boom 3
Ultimate Ears
amazon.com
$149.99
Key Specs
Connectivity: Bluetooth
Battery Life: 15 hours
IP Rating: IP67
Weight: 1 lb 5.4 oz
Another great 360-degree portable Bluetooth speaker by Ultimate Ears, the Boom 3 is an excellent option for anyone looking for a speaker to use at the pool—whether lounging on the sidelines or floating on the water. It's not only fully waterproof with the ability to be submerged up to 1 meter, but also floats. The Boom is larger than the Wonderboom 2, yet it still weighs under two pounds and has a slightly longer battery life at 15 hours. Plus, we can't fail to mention the eye-catching color options you can choose from.
Stunning color options
360-degree sound
Physical buttons only control volume
Best Value
Anker Soundcore Motion Boom
Key Specs
Connectivity: Bluetooth, USB-C
Battery Life: 24 hours
IP Rating: IPX7
Weight: 4 lbs
If you grew up lugging a boombox around—and, consequently, blazing through hundreds of dollars in D batteries—your experience with portable music started long before Bluetooth speakers existed. Long and rectangular in shape, and with a beefy handle for easy grip, the Motion Boom is a nostalgic reinvention of the boombox from your youth. And get this: If you drop it in water, all is not lost. Credit the waterproof and floating design. Battery life is an impressive 24 hours, and Anker's PowerIQ technology lets you charge your phone while you're listening to music. Overall, this is a great value, though the sound can get grating while indoors at higher volumes.
24 hour battery life
Durable and floats
Lower sound quality indoors
Best for Parties
JBL Pulse 4
Key Specs
Connectivity: Bluetooth
Battery Life: 12 hours
IP Rating: IPX7
Weight: 2 lbs 12.5 oz
The JBL Pulse 4 is entertaining in more ways than one: Not only does it provide excellent 360-degree sound, but it can also deliver a light show thanks to its 360-degree LEDs, which you can customize in JBL's app. The battery life isn't best in class, but the 12 hours of power can certainly last through your parties. The IPX7 rating means it can be submerged in water, so it'll surely hold up to whatever your get-togethers throw at it.
360-degree customizable LED lights
Full waterproofing
This content is created and maintained by a third party, and imported onto this page to help users provide their email addresses. You may be able to find more information about this and similar content at piano.io
https://wakelet.com/wake/hBHnGMzmNhO4nOH6JZZu7
https://wakelet.com/wake/OUI3nYH45w0nU6Q59Xi1W
https://wakelet.com/wake/F1nVHJUwRSDaBsWvuwAql