Huawei's 12th Global Mobile Broadband Forum in Dubai focused heavily on the major opportunities that 5G presents for boosting digital transformation while also thinking about ways to 'go green'
Huawei held its 12th Global Mobile Broadband Forum in Dubai this month, with the event focusing heavily on 5G. And Mobile News was there, for our first press trip abroad since the pandemic began.
Close to 500 people attended in person at the Jafza One Convention Centre, while the event was also broadcast via a live stream. In addition, some keynote speakers delivered pre- recorded messages.
Speakers included Huawei's rotating chairman Ken Hu, chairman of the ICT infrastructure managing board David Wang, president of the carrier business Ryan Ding, and president of wireless solutions Yang Chaobin.
There were also a number of speakers from some of the world's biggest operators, including Vodafone and Orange, plus a host of executives for MNOs based in the Middle East, and GSM Association director general Mats Granryd.
All the keynote speakers focused heavily on 5G, with operators highlighting use cases in various markets.
For its part, Huawei discussing its future plans for the technology and what people can expect from it, as well as assessing the current state of 5G development across the industry and key factors that will drive growth in the coming years.
Better experience
Although not in attendance, rotating chairman Ken Hu kicked off the event, connecting with the audience via a pre-recorded message.
Hu spoke of the noticeable upgrade in mobile experience for consumers provided by 5G in these still early days, saying that average download speeds were already 10 times faster than for 4G.
"5G has provided a considerable upgrade in mobile experience for consumers, and it's already starting to empower different industries around the globe," he said.
"Progress was much faster than we expected, especially in terms of the subscriber base, network coverage and sheer number of 5G terminals on the market."
Hu referred to stats estimating that there are around 176 live commercial 5G networks worldwide at present, with the GSMA's Mobile Economy Report estimating that there are around 500 million 5G customers.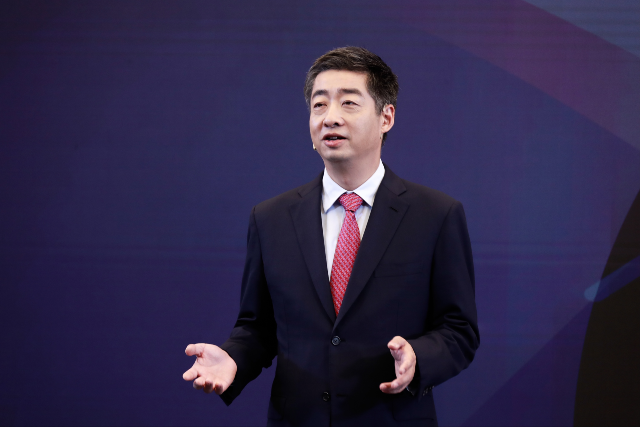 Growth areas
During his presentation, Hu detailed three key areas with potential for 5G growth, comprising extended reality (XR) services, the B2B market and opportunities to reduce carbon emissions.
With regard to the business segment, Hu highlighted that the pandemic had accelerated digital transformation by several years, but that there is a huge amount of room for improvement and making the most of the opportunity.
He highlighted that there were 10,000 projects worldwide exploring the B2B applications of 5G (5GtoB), with industries such as manufacturing and mining conducting trials and beginning to roll out at scale in some of these projects.
"Right now, more than half of these 10,000 5GtoB projects are in China," said Hu, indicating the significant potential to expand use cases in other countries as well.
"We have a huge number of use cases already, but we need to build more sustainable business cases," he added.
For 5GtoB to really take off, Hu called on operators to enhance their networks with new capabilities to support projects, including uplink, positioning and sensing functions.
Going green
Another focus at the forum was on reducing environmental impact, with the World Economic Forum estimating that digital technology can help cut emissions by at least 15 per cent by 2030.
In his keynote speech, Hu called on the mobile industry to "go green", saying: "We have a great opportunity to help all industries to cut emissions and improve power efficiency with digital technology.
"We have to recognise that our industry has a growing carbon footprint, and we have to take steps to improve that."
Referring to what Huawei is doing to be more environmentally friendly, Hu said the vendor has focused on harnessing methods and technologies to reduce the power use of its output.
"Right now, Huawei is using new materials and algorithms to lower the power consumption of our products," he said.
"We're remodelling sites and optimising power management in our data centres for greater efficiency."
Energy efficiency 
Ryan Ding, president of Huawei's carrier business group, picked up on the theme in his presentation, urging the industry to ramp up the adoption of more energy- efficient technologies.
He emphasised that the whole industry needs to continue pursuing new innovations in power supply, distribution and network management in adapting to the rapid growth of data traffic amid the rise of 5G.
Ding predicted that data use on 5G networks would jump massively, to as much as 600GB per user monthly by the end of the decade from just a few gigabytes now, potentially leading to energy consumption of wireless infrastructure increasing more than tenfold if its efficiency of remains unchanged.
"Huawei will continue to put green development at the centre of everything it does and develop innovative solutions to build greener 5G networks with operators worldwide," said Ding.
He revealed that Huawei has so far deployed its low-carbon-site solutions in more than 100 countries, from Saudi Arabia to Greece, Pakistan and Switzerland.
Industry outlook
Meanwhile, chairman of ICT infrastructure David Wang outlined ten forward-looking industry developments that Huawei believes will emerge within the next decade and then define the future of wireless networks.
Detailing what will be required to create the most "deeply integrated" experiences, Wang said the digital economy would become more and more of a primary driver of the real economy, Ultimately, he said, mobile networks can play a pivotal role in driving an intelligent future.
"Thirty years ago, we decided to enrich life through communications; ten years ago, we decided to connect every corner of the world to build a better, connected world.
"Now, our vision and mission is to bring digital to every person, home and organisation for a fully connected, intelligent world. We firmly believe that a brilliant intelligent world is arriving at an accelerated pace."
https://wakelet.com/wake/9C5V0y7Vl-QkQ6OyRvQHd
https://wakelet.com/wake/HI2FBFh3CGtWXHeAjMHvH
https://wakelet.com/wake/zVynh9ZODp10ZvluKZ4Xu