CCS Insight looked at the future of mobile, revealing its latest predictions for the years ahead
At the online CCS Insight Predictions event this month, Marc Allera, CEO of BT's consumer brands EE, BT and Plusnet, discussed the future of networks with Kester Mann, CCS Insight director for consumer and connectivity.
Is there anything the industry needs to address following some of the learnings
THERE ANYTHING THE INDUSTRY NEEDS TO ADDRESS FOLLOWING SOME OF THE LEARNINGS FROM THE PANDEMIC?
Marc Allera: One of the things that has come out is that pricing is not the most important thing to be talking about; quality of service is. What's been clearer during
the pandemic is that there is no way of controlling the huge volumes of traffic that can be concentrated at peak times through software releases, games releases and sporting events.
As we shift to more activity online, there needs to be a better way of controlling that volume of traffic to protect customer experience, and new ways of monetising some of the enhanced services we are all going to be offering over fibre and 5G.
The narrative among all stakeholders should not be about price; we've increasingly seen customers putting reliability and quality of service over price.
What is BT's roadmap in terms of convergence?
We're really excited about the opportunity of convergence. As we bring the mobile and fixed networks together, we look forward to a fully converged core where you can bring all of those 5G and mobile services into the fixed infrastructure.
There is opportunity beyond pure access and connectivity. We can think about the distribution opportunities we have within and out of the home, and how we can explore new verticals and create some new revenue streams.
You are going to see more forays from telcos into verticals beyond pure connectivity. But you have to do the basics right in the
core product first: you have to have a great- performing network to give you the right to play in other areas.
Is it time to rethink bricks-and-mortar retailing? 
We've always believed in face-to-face service where necessary for the customer.
Repairs are a great example. With £1k devices, for instance, when they go wrong, what you want is to stay connected instantly.
Most of our stores are on very short leases, so we have a lot of flexibility in terms of the size and shape of our retail estate. We need to see the working-from- home trends and how cities get back to life before we make big decisions on our store estate, profile and numbers.
It's likely that the role of the store changes. The pandemic has shown that our retail teams can do a lot of customer service and tech work over the phone from the home, as well as the store. We are going to see a lot more flexibility in terms of how people think about work and a blurring of the lines.
What are you expecting in terms of customer engagement with 5G? 
The benefits of 5G include quality and reliability of connection. Even our 4G network gets congested at times in busy places such as stations and airports, particularly at commuting times. One of the basic advantages of 5G is the ability to handle many more connections and loads more data.
If I knew what the killer app for 5G was going to be, I'd be sat somewhere else. I don't think anyone knows: we have to remember, we are at the beginning of the 5G journey. We are starting to see some interesting use cases, such as AR in gaming, with some of the partnerships we are working on.
As those capabilities start to unlock with a converged core, we can blend in- home and out-of-home experience, with opportunities to bring some great things to the consumer.
What are the key topics you discuss in your management meetings? 
The big focus areas are infrastructure and making the most of this next-generation shift to full fibre, and what that means as an opportunity for us to transform the reliability of the network.
It also makes us think about convergence and a better platform upon which we can provide better services to customers.
The same goes for 5G: we have a market- leading network and market-leading rollout for that infrastructure, so how can we make the most of that for customers and in terms of quality of experience?
Another topic is customers. We have made massive progress on BT's customer service, but my team is only just getting started.
We've made great strides in EE and in making experiences even better. Being best in the market for customers is the number- one thing on our minds all the time.
Are you able to share your predictions for the year ahead? 
There are a few areas I think about. For one, the mass adoption of wearables will really start accelerating. We are looking at new form factors, and I think [smart] glasses are going to be a mass-market thing.
We're going to see an increasing prevalence of glasses, and them not being seen as a niche and nerdy thing to wear.
We're also going to see foldables as a category grow beyond the couple of vendors who have innovated in that space. The chip-shortage issue could mean a greater number of high-end devices getting their share and a dearth in low to medium-end devices for the next 12 to 18 months.
Predictions from the event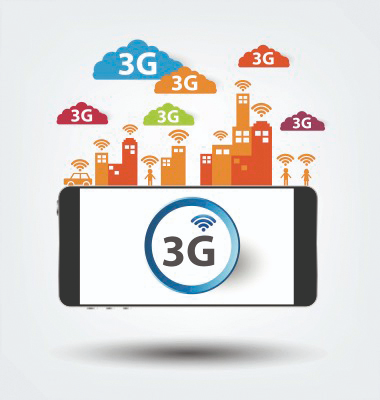 Support for 3G technology is set to disappear from leading smartphones by 2025.
This was one of the forecasts made by market research firm CCS Insight in its annual future-gazing 'Predictions' event.
It believes the demise of 3G is likely to be triggered by Apple removing support for the technology from the new iPhone in 2023, following some mobile operators already outlining plans to reuse their 3G spectrum and switch off such services.
Meanwhile, CCS expects at least a third of iPhone sales in Western Europe by 2025 to comprise refurbished devices. This is because the high price of new iPhones, combined with the regular schedule of Apple product launches, has been an important driver of the burgeoning market for refurbished phones.
CCS estimates that close to 25 per cent of iPhones sold in Western Europe are now pre-owned.
Steady growth over the next few years is set to be driven by increased supply, growing support from mobile network operators, heightened awareness of environmental issues, and a continued squeeze on some household budgets as economies recover from COVID-19.
AirTag integration
CCS predicts further that Apple will partner with at least one of the largest car manufacturers to integrate its AirTag technology into a car fob.
The success of the Apple AirTag and the effectiveness of vendor's mesh network of hundreds of millions of iPhones will appeal to vehicle makers to give owners an easy way to locate missing car keys.
Apple AirTags work by receiving location data from iPhones in the vicinity over Bluetooth, then transmitting that location data to Apple and back to the AirTag owner's iPhone.
Another prediction is that the device market in Europe will polarise further in 2022, with demand gravitating towards the premium tier and the low end.
This is because the financial effect of the COVID-19 pandemic has been uneven.
"Our research in three European countries shows that 20 per cent of households are better off as a result of the pandemic, but 25 per cent are worse off," said CCS Insight.
"Those who are better off said they plan to spend more money on connected devices than before; the worse-off said they would spend less.
"This deepens the polarisation of the market, increasing demand for premium and for low- end products, and leaving a wider gap in the mid-range price tiers."
Healthcare
Within three years, CCS predicts that you can also expect your network to offer you healthcare services as part of a service bundle.
The firm explained how this would play out. "Seeking to boost spending by their customers, telecom operators ally with healthcare providers and insurers to offer a range of services such as online consultations, remote monitoring, prescription sales and lifestyle advice," it said.
"The move plays to operators' strengths in connectivity and data security, supporting a diversification strategy that negates the risk of big spending in areas such as content and sports rights."
CCS Insight's predictions, meanwhile, contain good news for disaster relief agencies. Within two years, it is expected that mobile operators could run a fully operational swarm of 5G-enabled drones with integrated solar- powered radios connected to satellites.
These could be flown to a new location, spread over a specified area and landed to create instant coverage in an ad hoc small- scale network.
The primary use of these drones would be for emergency and disaster response to establish temporary 5G connections in areas where network coverage has failed or been destroyed.
https://wakelet.com/wake/CzE9UgTrKhhmfVEMaoMwd
https://wakelet.com/wake/-FCuVIghVcX-7aggakYIq
https://wakelet.com/wake/ZIhrWKId6Ue438P1EnJKX